Sandra Bullock Adopts Baby Son, Louis Bardo Bullock, of New Orleans (Photos)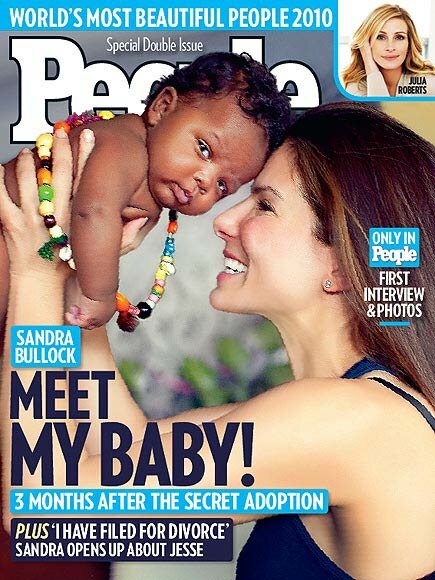 Despite her filing divorce from her cheating husband, Jesse James, Sandra Bullock has one positive thing to look forward to for the next 18 years and it's raising her newly adopted baby son.

Sandra Bullock has revealed in the newest issue of People magazine that she and soon-to-be ex-husband Jesse James had been secretly going through the adoption process for the last few years.
The Blind Side movie star, who in the movie adopts a African-American teenager, may have been touched by her role so much that she literally adopted what is assumed to be an African-American baby boy by the name of Louis Bardo Bullock who was born in New Orleans.
Bullock tells People that she and her alleged neo-Nazi fascinated husband have been going through the adoption process for the last four years and that she finally brought the baby home in January shortly before she won an Oscar for her role in 'The Blind Side'.
"He's just perfect, I can't even describe him any other way. It's like he's always been a part of our lives."
Little Louis is 3 1/2 months old and Bullock is finalizing the adoption as a single parent since she has announced that she is divorcing Jesse James.
This issue of People Magazine featuring Sandra Bullock and her newborn baby will hit news stands May 10th.