Kim Kardashian Gets Sexy Shrek Makeover; LOLs on Twitter (Photo)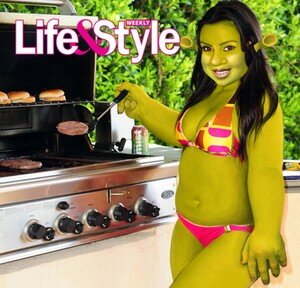 Reality star Kim Kardashian gets a new sexy make-over for a mock cover of Life and Style magazine but it's not what you think!

Some web-nerd came up with this joke to play on Kim Kardashian by giving her a new make-over by portraying a female version of Shrek and placing her on a mock cover of Life and Style magazine.
At least Kim has the ability to take a joke. She recently went on Twitter to tweet about the photo.
"OMG! Life & Style gave me a Shrek makeover! How do I look? LOL," says Kim.
Just earlier this month, Kim was a victim of another joke that she happily laughed off after finding out who the real culprits were.
On April 1st, someone hacked into her Twitter account but Kim soon learned that it was her sister Khloe and good friend Nicole Richie.
Picture: Kim Kardashian Sexy Shrek Makeover (Photo)