'Bling Bling' Rapper B.G To Rep Billionaire Mafia Legend Clothing Line (Photo)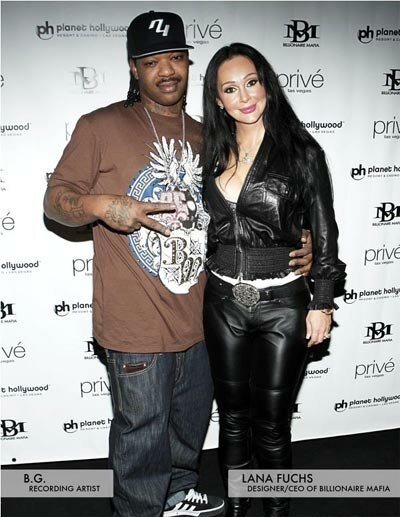 Rapper B.G. has signed a clothing line endorsement deal to represent the Las Vegas based Billionaire Mafia Clothing line.
Billionaire Mafia, established in 2007 by Lana Fuchs to showcase her love for urban art, music, and fashion, brought on the child of New Orleans' Dangerous 13th Ward to represent the company's new Legend clothing collection.

The line initially designed street-inspired graffiti-themed T's and hoodies but in the last few years Billionaire Mafia has reportedly grown dramatically. Celebs such as Busta Rhymes, Big Tigger and UFC fighter Rashad Evans reportedly wear Billionaire Mafia on a regular.
"If you're in the game, then you got to be a power player," Fuchs said adding that "Billionaire Mafia is elegant, luxurious and sexy," but adds that "each individual gentleman can add his own swagger to it."
Fuchs claims that she likes "to dress real men, who know what they want and go after it with a vengeance."
When asking B.G. (known for works "Chopper City" and "Bling Bling") why he chose to endorse Billionaire Mafia, he says it represents the streets like he does in his music.
"This year I joined the Billionaire Mafia family," B.G. said adding that it's "a hot clothing line for gangsters" like himself.
"Be on the lookout for me, B.G., coming to a hood near you rockin' my Billionaire Mafia fits," states B.G. "Time to get back to the money — Billionaire Mafia money. I look like money all day, everyday representing Billionaire Mafia," he added.
Fuchs says BG's sponsorship with Billionaire Mafia is a perfect fit and natural evolution for the company, whose tagline is, "For Power Players" and aims to bring luxury to the streets at affordable prices.
For more information on Billionaire Mafia, visit www.billionairemafia.com.