Jamie Foxx and Stacey Dash Dating + First Date Sex Confessions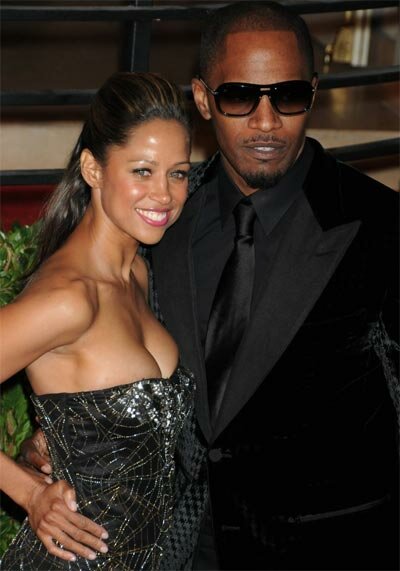 Since Jamie Foxx sparked the rumors of him sexing up Stacey Dash after spending Oscar weekend together, the internet has been going bananas wondering if they are 'dating dating' or not?

Jamie Foxx told Extra after the two were spotted together that they were definitely on a date during Oscar Weekend.
Jamie Foxx stated that she's the hottest and he was just hanging with her. The actor/comedian went on to say that Stacey Dash did his radio show Foxxhole and that they are going to be giving the sexy actress her own show on Foxxhole Radio, XM 149 which is why the two came out to enjoy the night.
This comes after Stacey Dash filed for divorce from actor Emmanuel Xuereb recently and everyone knows that Foxx usually attends the red carpet events with his daughter, Corinne, or his sister.
Stacey Dash and Jamie Foxx were seen arm and arm at the Vanity Fair events as well as several Oscar afterparties.
During Stacey Dash's recent appearance on the Wendy Williams show, she stated she'd love to go out with Jamie Foxx again.
The celebrity hottie has already apparently admitted to sex on first dates, ok?! So, this has many wondering what was her and Jamie Foxx's first date like and will there be another? Hmmmm..
(Developing Story)