Lady GaGa New 'Telephone' Shoot Pictures For Collab With Beyonce (Photos)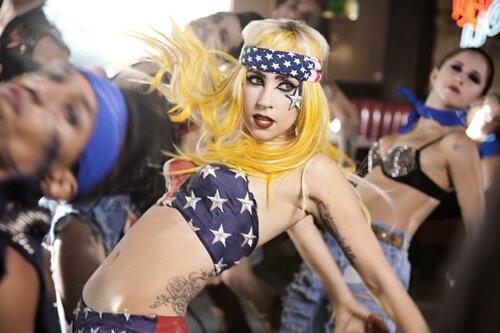 New photos from the new Lady Gaga music video 'Telephone' featuring Beyonce has been released. The official photos give a sneak peek of what to expect from the upcoming music video which will feature the two entertainers.

In two of the three photos released on Lady Gaga's official website, Lady Gaga can be seen in one photo dancing in an American Flag inspired outfit, while in another photo Gaga takes on the look of a retro chef/waitress with one piece of her hair molded into a telephone handset.
The single 'Telephone' comes from off Lady Gaga's album The Fame Monster and is reported to have been shot by video director Jonas Akerlund who also shot Lady Gaga's music video "Paparazzi."
The music video "Telphone" reportedly was shot outside Los Angeles on January 28 in Lancaster, California and will feature a cameo from singer, model and actor Tyrese Gibson and a prison shower scene.
Currently no release date has been announced for the music video.