PHOTOS: Lil Wayne's Farewell Party With Cash Money / Young Money; Jail Delayed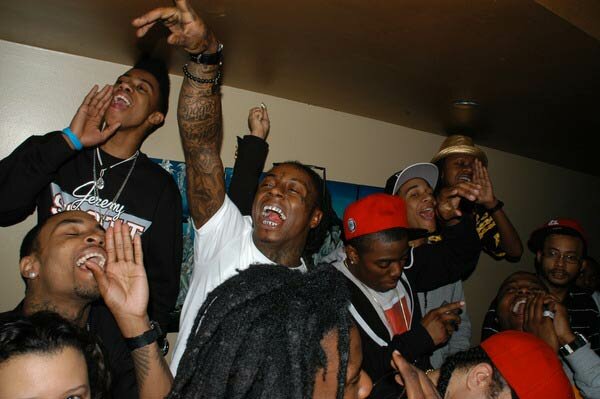 Rapper Lil' Wayne, who was recently featured on the cover of Rolling Stone Magazine, throws a lavish Going Away 'Farewell Party' on Feb. 7th at Dolce Ultralounge in Miami. Guest stars include the whole Cash Money/Young Money crews, B.G. and Bow Wow.

Birdman, Sean Garrett, Lil Za, Chris Johnson, Tammy Torres, Trae, Wale, GEDTrell, Drake, Nicki Minaj, J, Gudda Gudda, and BG were just a few artists and friends to party for Lil' Wayne's 'Farewell Party' in Miami on Feb 7th, just 2 days before he was set to begin his 12 month sentence for weapon's possession.
"Lil' Wayne is unstoppable, no matter what he does," says fellow Young Money recording artist Nicki Manaj.
Wayne later appeared on a Ustream broadcast with his new artist Lil' Twist to say goodbye to his fans, as reported on HipHopRX.com, but as he went to see the judge before he goes in the prison on Feb. 9th, he was hit with the unexpected news that he will have a couple more weeks of freedom as his lawyer requested time for Wayne to heal after he has surgery on a cracked tooth. Wayne's new date to begin serving out the 12 months is March 2nd.
Expect to hear alot from Wayne before that date as he goes into Non Stop Work Mode!!!

Pictures of rapper Lil Wayne's Farewell Party, February 2010:
View more photos of rapper Lil Wayne's Farewell Party here.