Kendra Wilkinson Meltdown: Crying As Hank Baskett Pinned To Super Bowl Loss (Photos)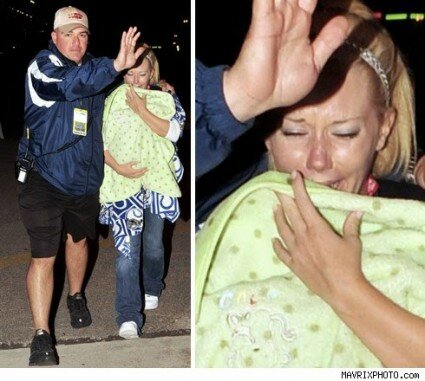 'Girls Next Door' reality star and Playboy model Kendra Wilkinson was seen crying her little eyes out as she was exiting the stadium after her husband, Indianapolis Colts star, Hank Baskett lost the 2010 Super Bowl XLIV title to the New Orleans Saints, whose Kim Kardashian's man Reggise Bush happens to play for, as mentioned in news in the Kim K Saints vs Kendra W Colts; Bush vs Baskett article on HipHopRX.com.

So did Kendra have a Super Bowl meltdown after hubby Hank Baskett's Colts lost to the Saints?
Kendra was photographed crying hysterically while holding her baby, Hank Jr., as she exited the stadium. Many think she was crying because her hubby's team lost to the Saints but Kendra says she wasn't crying over a "damn game." She sought to clear things up via her twitter account soon after her meltdown!
"I wasn't cryin cuz of the damn game," stated Wilkinson. Then blaming the paparazzi Kendra says they "have no soul" adding that they wouldn't leave her and her family alone.
Kendra says paparazzi was too close to the baby and quote "didn't care at all!"
So there you have it, Paparazzi was the reason for the tears. Losing to the Saints didn't make it any better.