Awww Snooki Ooki Now! Jersey Shore Star Sex Tape, Nude Photos Scandal + JWOWW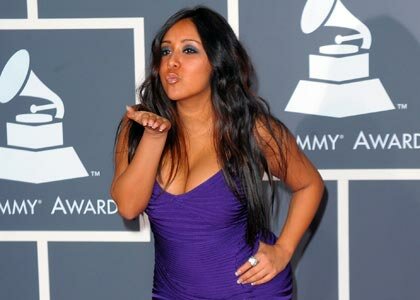 Jersey Shore star, Nicole Polizzi aka Snooki, the MTV reality TV show star who's known most probably for being viciously punched in the face on an episode of the show by North Queens Community High School gym teacher Brad Ferro, as reported on HipHopRX.com, has allegedly got some nude photos and a sex tape being shopped around as we speak.

Snooki's sex tape and alleged nude photos reportedly leave nothing to the imagination, reported RadarOnline.
This news follows just days after reports of at least three naked photos of Jersey Shore reality TV show star Jenni Farley aka JWOWW being shopped around.
In the naked, naughty photos of Snooki, the reality show star alleged shed her clothing in her bedroom in one picture showing her on her knees while holding onto the rail of a bed frame, while another photo is allegedly too graphic to describe.
Awwww Snooki ooki now!!
In related news, Snooki showed up at the 2010 Grammys and mingled with the celebs and stars and took photographs kissing at the 'paps' on the red carpet.
Check out some of those photos and more pictures of Jersey Show star Nicole Polizzi aka Snooki below:
Pictures of Jersey Show star Jenni Farley aka JWOWW