Lady Gaga's Orbit Outfit At The 2010 Grammy Awards Was Armani Prive?! (Photos)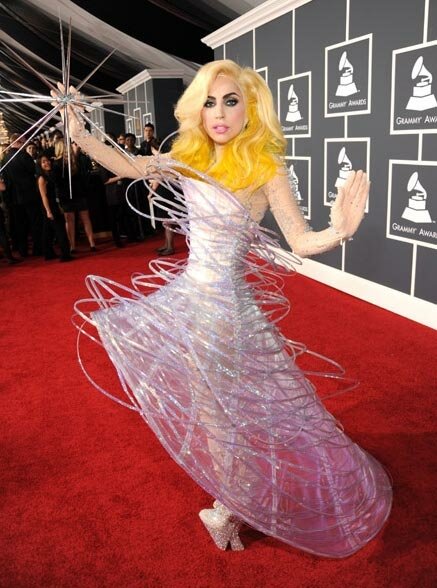 Lady Gaga who was nominated for Record, Album and Song of The Year for the 52nd Annual Grammy Awards, arrived on the red carpet in a rather extreme outfit as usual. Wearing a lilac colored outfit which sort of resembled a vintage princess gown with a galactic touch, Gaga arrived on the carpet posing with a symbol of a star-like solar system object in her hand.

Who was the fashionable corseted-like dress designed by? Reportedly the outfit is a Giorgio Armani Prive. The dress was encrusted in Swarovski crystals with Lady Gaga's hair/wig attached to the outfit colored with golden blonde and yellow on the ends. This gave Lady Gaga the look of a galactic Barbie doll or maybe a space-age good witch off of a new remake of Wizard of Oz.
With her multiple nominations, the popular singer did happen to take home two prominent Grammy Awards. The singer won Best Dance Recording for her song "Poker Face" as well as Best Electronic/Dance Album for her album "The Fame."
Log on here for a full list of the 52nd Grammy Awards Winners.
View more pictures of Lady Gaga at the 2010 Grammy Awards below: