Sisqo, Ivana Trump or Stephen Baldwin to Get The Celebrity Big Brother Boot?!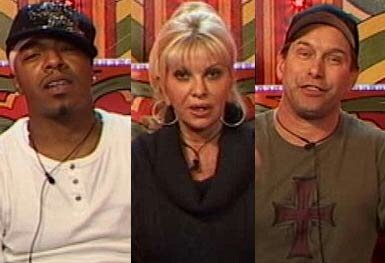 Ivana Trump, Sisqo and Stephen Baldwin have all been nominated for eviction from the Celebrity Big Brother House and they all will be heading to the chopping block come Friday where two of the three will be booted from the house.

The celebrity stars will face a public vote off after receiving the most nominations in a special 'speed nominating' round, which took place after rapper, Lady Sovereign, became the third celebrity to be evicted from the reality television show, as reported on HipHopRX.com.
The extremely wealthy socialite, Ivana Trump received five nominations. She received nominations from Sisqo, Stephanie Beacham, D.J. Jonas Altberg, Dane Bowers and Nicole Tappenden, while Stephen Baldwin received four votes.
Sisqo was nominated by cage-fighter turned Hollywood star, Vinnie Jones and Jonas Altberg, who said he was sick of the musician "showing off".
"He [Sisqo] just keeps talking about all of his achievements and it's boring," he said.
Stephanie Beacham and Vinnie Jones were the only housemates who didn't receive any nominations.
Currently Alex Reid is trying to get rid of the Americans off the show, saying that Celebrity Big Brother is a UK show and he wants to start with singer Sisqo.