Miley Cyrus Not a Virgin, Says Tila Tequila! + Kim Kardashian, Ray J Sex Tape Slam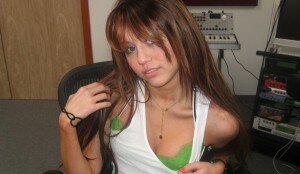 MTV reality star, singer and model, Tila Tequila says, Disney star Miley Cyrus aka Hannah Montana is 'NOT a virgin,' via Twitter. It seems like Tila Tequila is always tweeting about everyone except herself as she also had things to say about some other A-list celebrities.

Tila Tequila has been putting everyone on blast via her twitter. She's tweeted on the Kim Kardashian and Ray-J sex tape saying that they both got $300,000 to put it out. She also tweeted that Paris Hilton's sex tape leak was no leak at all, but that it was planned and she also got a couple hundred thousand to do it. Now she posted on her Twitter, "Miley Cyrus is NOT a virgin." She always has the juicy scoop on all the A-listers.
Tila says she's not "bashing" anyone, "just those who have fu@#ed me over." "Trust me, I don't bash the GOOD people," says Tila Tequila.
I wonder what Ms. Tila Tequila has hiding in her closet? I bet it's much juicer than anything she writes about all these other people. Come to think about it… isn't she supposed to be in a state of mourning considering she just lost the "love of her life"? Hmmm. Well, that's Tila Tequila.
Meanwhile, Tila Tequila announced she has a record label, "Tila Tequila Records" and the first act she announced was Raz B of B2K, as reported on HipHopRX.com. According to Tila Tequila, she's being going through over 15,000 submissions and recently had to hire on two A&R's to help her.
Now back to Miley Cyrus, we wonder what's her take on Tila Tequila's accusations since people have been questioning this for a few years now.
Developing….