2010 Golden Globe Pictures, Red Carpet Celebs: Halle Berry, Zoe Saldana (Photos)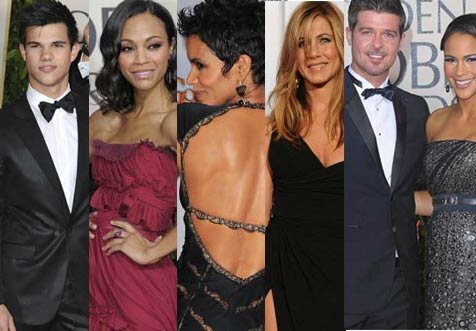 Sunday night, January 17th was the night of the 67th Annual Golden Globe Awards held at The Beverly Hilton Hotel in Beverly Hills, California and the stars were in the house and on the spot! Actors, actresses and cast members from some of the year's best movies showed up and showcased out including Mo'Nique of Precious, Zoe Saldana of Avatar, Sandra Bullock of The Blind Side, Golden Globes 2010 Presenter Halle Berry, Leona Lewis, who's song I See You (the theme from Avatar) was nominated for 'Best Original Song,' and others.

Mo'Nique was wearing a somewhat gold-ish bronze colored gown while accepting her "Best Supporting Actress in a Motion Picture" award for her role as Mary Lee Johnston in the drama film "Precious" which is based on the Novel "Push" by Sapphire and directed by Lee Daniels.
The beautiful and talented actress Zoe Saldana, who played the role of Neytiri in the huge billion dollar box office movie "Avatar," also made an appearance at the 67th Annual Golden Globes wearing a ruffled burgundy dress that didn't highlight that wonderful body of hers but she still looked great. We will definitely be seeing more of Saldana because, as of April 2010, sources say the actress will become the new model face of Avon's newest fragrance, Eternal Magic.
Golden Globes 2010 Presenter Halle Berry showed off her lovely cleavage and figure in a wonderful black figure-contouring dress while looking as wonderful as ever.
Meanwhile, Jennifer Aniston showed off her sexy legs in her so-called boring dress.
Others who made an appearance were soon-to-be parents Robin Thicke & Paula Patton; sexy singer/actress Mariah Carey, along with hubby Nick Cannon, who showed up in her so called 'too much cleavage' revealing dress plus Mike Tyson and others all showed up at the star studded 67th Annual Golden Globe Awards.
Check out pictures of celebs from the red carpet event, and for a complete list of 2010 Golden Globe Award winners, go here.
View more pictures from the 67th Golden Globe Awards