Pregnant Keyshia Cole Engaged To Be Married To NBA's Daniel 'Boobie' Gibson! (Photos)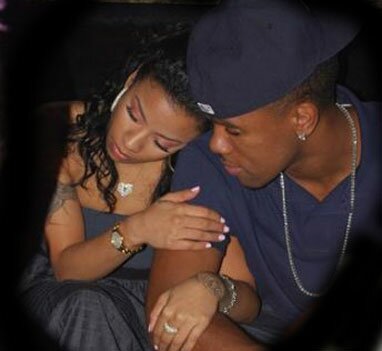 According to sources, 'The Way It Is' singer Keyshia Cole, born Keyshia Miesha Johnson, 28, recently got engaged to N.B.A.'s Cleveland Cavaliers player, Daniel "Boobie" Gibson. Keyshia and Daniel are expecting their first child in March of 2010, her representative confirmed through US Magazine.

Keyshia Cole's rep is quoted as stating that they can confirm that the R&B singer is engaged, and that Keyshia Cole has an incredible ring. The rep also reported that Keyshia was "flabbergasted" and her mouth dropped when 23 year-old Gibson proposed very unexpectedly on New Year's Eve, commenting that the ring was too beautiful for words. Keyshia Cole who is pregnant is due in March of 2010.
Outside of her music, from 2006-2008 the singer became a hit sensation on her own reality T.V. show that aired on B.E.T. entitled "Keyshia Cole: The Way It Is." "Keyshia Cole: The Way It Is" became the top returning series premiere in BET history.
In other news, after the birth their child and a possible wedding, Keyshia Cole is expected to release a fourth album which is set for distribution later in 2010. The singer will also be making her acting debut in the Tyler Perry film "Why Did I Get Married Too?" as the role of Jada which is set to air on April 2, 2010. The movie sequel also stars Tyler Perry, Janet Jackson, Tasha Smith, Jill Scott, Malik Yoba and Monica Arnold.