Kim Kardashian's little sisters Kylie, Kendall Jenner Racy MySpace Pics?! (Photos)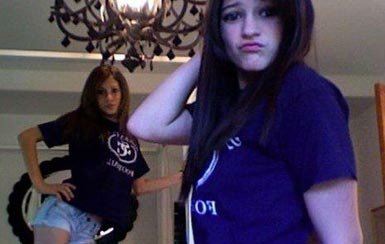 It seems that Kim, Kourtney and Khloe Kardashian's little sisters, Kendall Jenner, 14, and Kylie Jenner, 12, are causing quite a stir after some of these pretty racy and edgy, now controversial pictures of themselves were uploaded to Myspace.

In one of the pictures, both of the teen girls who referred to themselves as Kylie Jenner Kardashian and Kendall Jenner Kardashian are seen bending over with some little cut off denim jean shorts, somewhat like the infamous Daisy Dukes, with their butts pointed in the air with their hands on the bed.
In another picture, the teens are joking around and even playing with a tampon, not to mention the other pictures with even more somewhat provocative poses by the teenage celebrity reality stars.
Are these just innocent teens having harmless fun or teens gone wild?! Well, as mentioned, the pictures have caused quite a stir on blogs sites and celebrity forums online with alot of people having different views on the subject. Some are referring to the pics as 'nasty' and 'too provocative' for teens' their ages — while some are blaming it on the lifestyles of the 'Keeping Up With the Kardashians' stars — while others simply say it's just teens having fun. Maybe they're just teens turning into young celebs too early before realizing they're in the celebrity spotlight and now under the watchful eye of celebrity followers?! Whatever the case, it seems since the pictures have drawn so much attention that the Myspace account of Kylie has been deleted.
Check out the Kardashian sisters Kylie Jenner and Kendall Jenner cut-off jean shorts, the so-called 'nasty pics' that were uploaded on MySpace
What do you think? Just girls having fun or teens gone too far?