New Year's Eve Is Cash Cow For Celebrities?! 50 Cent, Ciara, Rihanna, Fergie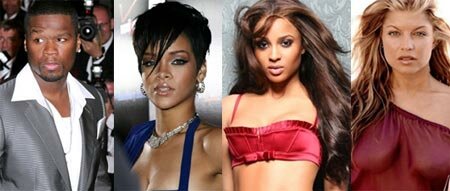 Not only is New Year's something to look forward to for many, but New Year's Eve is a cash cow for celebrities as well as businesses looking for a little more revenue before it's time to dish out some money as tax season gets ready to start.

TMZ is reporting that celebrities such as Fergie and the Black Eyed Peas' will be earning $700,000 to show up and perform at LAX at the Luxo, while our guy 50 Cent will be earning $100,000 for a party at Pure at Caesars Palace.
Electro-hop group LMFAO is stated to be receiving $75,000 to perform at Silk in Temecula, Ashlee Simpson's husband and bassist of the Fall Out Boy, Pete Wentz is looking at $30,000 to make his presence known at Jet Nightclub in Vegas. Blogger Nik Richie of TheDirty is reported to be looking at $20,000 to appear at Pure in Vegas along with 50 Cent in Las Vegas .
As reported on HipHopRX.com, Lady Gaga is a big ticket seller for one hotel selling over $1 million dollars in tickets. Rihanna was rumored to be receiving $500,000 for a concert in the Middle East, a rumor which was later denied by the promoters of the event.
The latest is that singer Ciara is expected to earn an estimated $2 million dollars for a New Year's Eve gig in the country of Kazakhstan where Whitney Houston has performed before for around the same estimated amount.