Remember These Celebrity Quotes That Are So Stupid, They're Funny?!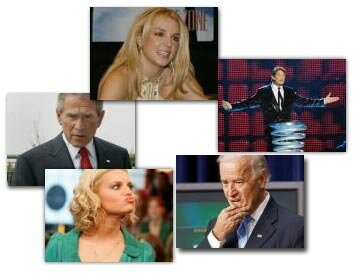 This is either people not thinking before they speak, or they just didn't know any better. Either way these celebrity quotes by George W. Bush, Britney Spears, David Hasselhoff, Jessica Simpson and Joe Biden are simply amusing.



George W. Bush : "They misunderestimated me."

Britney Spears: "I get to go to lots of overseas places, like Canada."

David Hasselhoff : "I've got taste, it's inbred in me."

Jessica Simpson : "Is this chicken, what I have? Or is it fish? I know it's tuna but it says chicken."

Joe Biden: "Uh-uh. Chuck Graham, state senator is here. Stand up, let'em see you Chuck. Oh, God love you. What am I talking about?" – to wheelchair-bound Missouri state senator, Charles Graham.