Raw Footage: Ice-T and Wife CoCo's Booty On the Sunny Miami Beach! + Pictures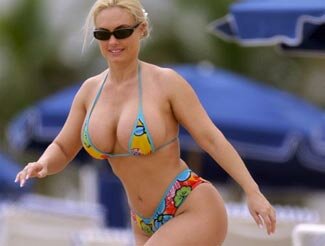 While out for some family fun on Miami Beach, Ice-T and wife Nicole 'CoCo' Austin and her once believed to be perfect voluptuous butt were captured on video. CoCo's bottom has already appeared in a not so flattering photo along with other rather nicer pictures with her and hubby Ice-T on the beach.

Nicole CoCo Austin hit the Miami beach with her family and has made headlines since for showing another side of the CoCo, most fans haven't seen – her soft side and family side.
Well, at the least, we can say this new video and pictures of CoCo on the beach along with Ice-T and family are not the norm because the public is so adapted (good word) to the sexier side of CoCo. Fans are use to seeing rated R photos as seen in magazines like Playboy and Blackmen's Magazine and even her infamous pictures/poses seen on the internet such as those seen on her own official site CocosWorld.com .
Check out the video of CoCo's Booty on the sunny Miami Beach along with hubby Ice-T!
Click here for much sexier pictures of CoCo!