Microsoft Launches New Xbox LIVE Music Game Stores For Guitar Hero, Rock Band, Lips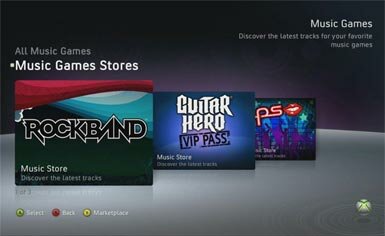 Just when you thought you've heard enough about Xbox LIVE or the gaming console Xbox 360, Microsoft released days ago a new Dashboard section on it's Xbox Live Music 'Music Games Stores' for the video games Rock Band, Guitar Hero, and LIPS. The new music game store section which was unveiled now allows for gamers to smoothly browse music selections without the need to load up each game for their individual in-game stores.

In addition to not having to load up each individual in-game stores, the new Dashboard music game store section allows for gamers to sort and search through songs as well as listen to the previews before having to purchase them.
The games compatible with the new feature are Guitar Hero World Tour, Lego Rock Band, Band Hero, Guitar Hero 5, Lips, Lips: Number One Hits, The Beatles: Rock Band, and the classic version of Rock Band.