Rapper, Actor Xzibit Stars In Bad Lieutenant Movie Remake With Nicholas Cage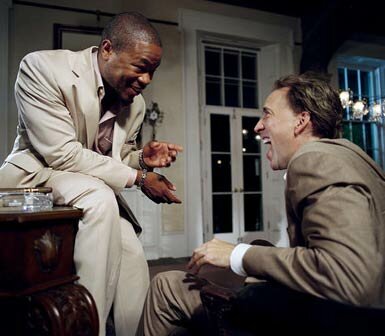 Rapper Xzibit will co-star in the remake film Bad Lieutenant: Port of Call New Orleans alongside actor Nicolas Cage later this month when it hits theaters!

This movie, which is based off the 1992 film Bad Lieutenant written by Zoë Lund and Paul Calderon which then starred Harvey Keitel that orginally took place in New York, will be about Big Fate, Xzibit's character in Bad Lieutenant, a murderous drug dealer who has dealings with Cage's character Terrence McDonagh who plays a dirty detective living in post-Katrina New Orleans. He uses his clout as detective to retrieve drugs for his growing habit.
In the movie, Terrence McDonagh who is the main character in the movie becomes addicted to prescription pain medication after injuring his back after a heroic act which eventually lands him dealing with drug dealer Big Fate based on the synopsis who is suspected of murdering a family of African immigrants.
The film is Directed by Werner Herzog and also stars Val Kilmer, Jennifer Coolidge, Fairuza Balk, Shawn Hatosy and Eva Mendes who recently had one of her nipples slip out of her blouse at the screening of the Bad Lieutenant: Port of Call New Orleans movie at the SVA Theater in New York City (Nov. 8th), as reported on HipHopRX.com.
Bad Lieutenant: Port of Call New Orleans will be released in the following major cities on November 20:
*Los Angeles
*New York
*Chicago
*San Francisco
*Washington DC.
Following the November 20 release, Bad Lieutenant will be released in the weeks following in these cities and more:
*Atlanta
*Philadelphia
*Houston
Watch the trailer of Bad Lieutenant: Port of Call New Orleans