America's Got Talent Finale, Winner Wins 1 Mil After Viewers Voted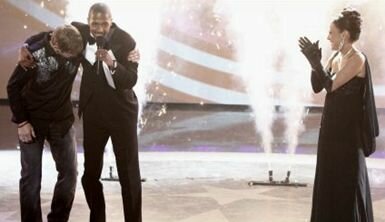 Kevin Skinner has one million reasons to smile. America's Got Talent aired it's season finale last night, September 16, 2009, hosted by Nick Cannon and cleared 8 of it's 10 contestants off the stage to reveal who the was winner between Kevin Skinner and Barbara Padilla.

As the show progressed and the two last contestants were revealed, former farmer of a chicken coop, Kevin Skinner was announced as the winner beating out Opera singer Barbara Padilla after viewers casted their votes following Monday night's episode that featured the Top 10 finals acts of the 100,000 plus who entered.
The acts which Kevin Skinner beat out included contortionist breakdancer Hairo Torres from Grants Pass, Oregon; singer Lawrence Beamen from Walnut Creek, California; a team of tap dancing sisters called Fab 5 from Morgan, Utah; singer/guitarist Drew Stevyns from Sykesville, Maryland; and elderly stand-up comedian Grandma Lee from Jacksonville, Florida who were elminated earlier in the show.
And finally music quartet Recycled Percussion from Goffstown, New Hampshire; trio Texas Tenors from Houston, Texas; and siblings Voices of Glory from Highland, New York and Barbara Padilla.
The night's show included performance sets by elminated guests as well as celebrity acts Shakira, Leona Lewis, the awesome Cirque du Soliel production "Banana Shpeel," Rascal Flatts, Thelma Houston and "Britain's Got Talent" runner-up Susan Boyle who sung all before the winner was announced.
For Kevin Skinner's win, he was awarded the $1 million grand prize in the NBC talent competition as well as a headlining "America's Got Talent" show at the Planet Hollywood Resort & Casino in Las Vegas show which will be hosted by Jerry Springer sometime in October.
Watch the season finale of Amercia's Got Talent below.