Kanye West's Rant At VMA's, Takes Taylor Swift's Mic, Praises Beyonce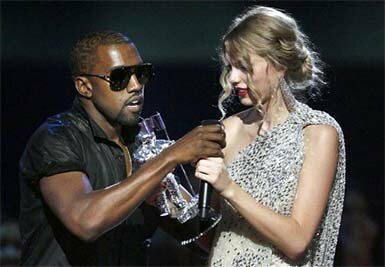 Country Music Star Taylor Swift won the award for 'Best Female Video' at the VMA's last night, beating out artists such as Lady Gaga, Katy Perry, Kelly Clarkson, Pink and Beyonce'!

As Swift was giving her acceptance speech, Kanya West jumps on stage and takes the mic away from Swift. Apparently he was upset that Beyonce' didn't win the award. West went on to say that "Beyonce' had one of the best videos of all time!" The entire audience starting booing Kanye West as he exited the stage. Reportedly after acting a damn fool, he was asked to apologize at the VMA's in-which West declined.
Later Kanye apologizes on his website kanyeuniversity.com, click photo below to get the full apology.