Kourtney Kardashian's Lesbian Kissing + Khloe's Cocaine Oops (Photos)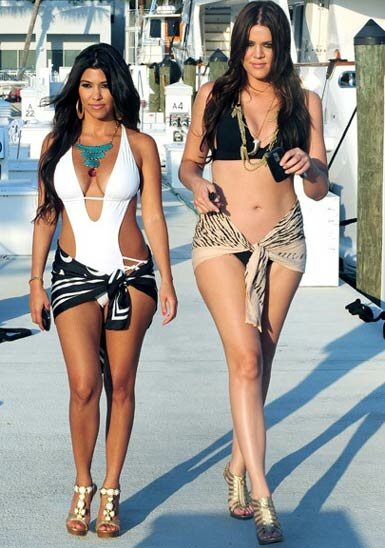 The sexy Kardashian sisters of Keeping Up with the Kardashians, Khloe Kardashian and Kourtney Kardashian, are both starting off with simultaneous controversial events on their own new reality television show – Kourtney & Khloe Take Miami – with Khloe Kardashian almost losing her job over cocaine controversy while sister Kourtney has sparked the flame with a sexy lesbian encounter which also aired during their new show.

In Khloe Kardashian's incident, an employee of her and Kourtney's new D-A-S-H store, in Miami, Florida, found a vial of cocaine while picking through a pile of clothes that customers evidently were trying on earlier. In order to avoid an incident from happening in the store, Khloe decided to just hide away the cocaine in her handbag.
Later in the show, Khloe, joined by co-host Terrence J on their new radio show, decided during a live taping that she would pull out the vial of cocaine and talk about her crazy incident earlier — well, needless to say, the show was immediately cut followed by an executive of the Clear Channel show calling Khloe's actions "stupid," telling her to immediately dispose of the highly illegal drug and meet him in his office.
Khloe Kardashian, who according to her, doesn't do any drugs, was immediately put on suspension and if not for her agreeing to go through a drug test, she could have possibly lost her radio show and cost others their jobs as well — an incident which Khloe claims she's learned now that her actions were not good and she agreed to do whatever to keep her job which she now knows how much she cares about.
Meanwhile sister Kourtney Kardashian, who's currently pregnant as covered on HipHopRX.com, was caught up in some lesbian action with a friend by the name of Jackie, who she met in her art class. The friend revealed to Kourtney that she was bisexual shortly after meeting her. Later, while out at a girl-girl club, after a couple of drinks, Kourtney Kardashian and Jackie locked lips and began kissing after playing one night in the club as girlfriends to avoid an advance by another girl. The kiss took place right on camera with sister, Khloe, looking on.
Later, Kourtney, who has kissed girls previously while in college, regretted the kiss, because she claims she did not mean to lead her new friend Jackie on and actually avoided calls, text messages from Jackie until one day in art class she confronted Jackie and apologized for avoiding her which the two made up, and depending on next episodes may remain only friends.
Later in an episode of Kourtney and Khloe Take Miami, both Khloe and Kourtney would pressure sister Kim Kardashian, who guest appeared on the show, into getting drunk while Khloe holds auditions at D-A-S-H to find a date for Kourtney, whom was upset over the shocking method that Khloe decided to break the news — live on radio! The show also included a kissing scene between Khloe and Terrence J that you just have to watch!

Kourtney and Khloe Take Miami premieres on Sundays, with September 6 being the next episode at 9pm CST on E! Entertainment Television.
Video: Khloe Kardashian's Cocaine Controversy on Kourtney and Khloe Take Miami
Video: Kourtney Kardashian kissing friend Jackie: the Lesbian Kiss on Kourtney and Khloe Take Miami
Video: Khloe Kardashian and Terrence J Kissing on Kourtney and Khloe Take Miami
Video: Kim Kardashian Gets Drunk on Kourtney and Khloe Take Miami