Kim Kardashian Glams Up! Debuts Sexy New Blonde Hair Style (Photos)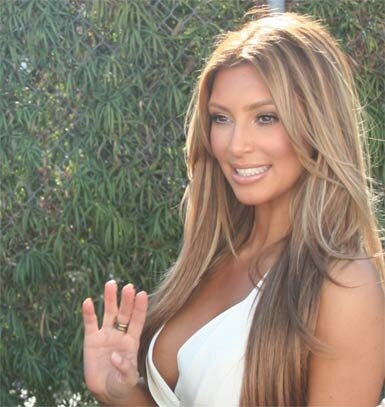 Kim Kardashian, of the reality television show 'Keeping Up With the Kardashians' goes blonde for real! The sexy model, actress and television personality says she's been considering going blonde ever since sporting her blonde wig, as reported on HipHopRX.com back in April.

This time Kim Kardashian says it's not a wig, "it's for real," Kim K wrote on her blog.
Kim Kardashian's new blonde hairdo was styled by her hairstylist Clyde Haygood who Kim Kardashian claims "orchestrated the whole thing" along with Rebecca from Goodform Salon who dyed her hair.
Kim Kardashian, who recently broke up with her star athlete boyfriend, New Orleans Saints NFL football player Reggie Bush, debuted her fresh new look at Sunday's Teen Choice Awards in Universal City, California, which she attended along with her younger siblings Kendall and Kyle Jenner.
Kim Kardashian claims she's "glamming up for Teen Choice Awards," and warned fans they would be "SHOCKED at [her] new look!," Kim Kardashian posted via her Twitter before the show.
Kardashian presents an award with Shawn Johnson to the Jonas Brothers on the Teen Choice Awards, which airs tonite on Fox at 8 p.m.
Check out photos of Kim Kardashian and her sexy new blonde hairdo!