Nicki Minaj and Amber Rose Sexy Photos Together, Getting Close?!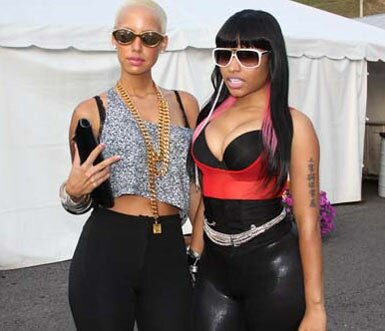 Photos of Young Money affiliate, female rap artist Nicki Minaj and Amber Rose, the sexy model and girlfriend of hip hop music producer/rapper Kanye West have surfaced on the Internet of the two ladies holding hands and being somewhat intimate backstage at a recent "America's Most Wanted" concert.

The two were spotted backstage walking with each other hand-in-hand looking sexy as ever as usual and stirring up controversy over the two's somewhat intimate hand-to-hand action. Was this just Amber Rose and Nicki Minaj being friendly, teasing the public or more?!
Well, as reported on HipHopRX.com, Amber Rose has made it clear that she had interest in Nicki Minaj and would love to have a bi-sexual experience with her, according to her own words.
"[Nicki Minaj] is f-ckin stunning in person I couldn't stop staring at her!!!! I would sooooo do her," stated Amber Rose.
Check out the photos of Nicki Minaj and Amber Rose together being intimate.