Karrine Steffans Drilled by TV Hosts: Interview Goes Terribly Wrong!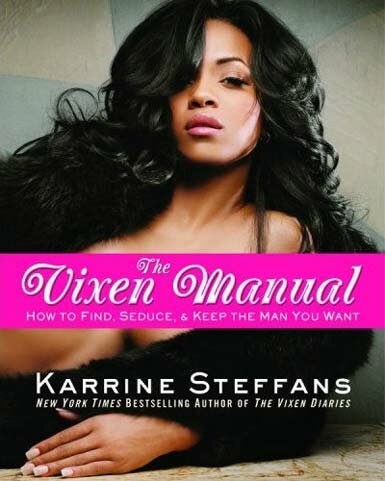 During a recent interview in promotion of her new book, "The Vixen Manual: How to Find, Seduce & Keep the Man You Want," the author of the book, Karrine Steffans, had an unexpected heated debate with Sacramento, California television hosts of the morning TV show, "Good Day Sacramento," Marianne McClary and Nick Toma.

The debate/heated conversation stemmed from host Nick Toma asking Karrine Steffans was her book related to the past seductions throughout her music video vixen/modeling career with well-known rappers and singers, that she's been so open about.
Karrine Steffans who was seemingly shocked that he hadn't read the book, quickly voiced her somewhat frustration claiming that she was offended by his comments.
Toma and McClary, at that time, gave Karrine Steffans the time to explain in her own words via satellite what "The Vixen Manual" was about.
At some point during her details about her book, Karrine Steffans expressed that "The Vixen Manual" was a somewhat guide to the lessons that no one gave her as a child being that she was on her own since 15 years-old.
"In The Vixen Manual, it's more so about preparing yourself as a single girl," stated Karrine Steffans. "You know, all those lessons that no one gave me as a young child and as a young adult, I'm now able to give to women who may not have the proper role models. It did take me a little longer to learn things I've been on my own since 15 years old, living by myself, so I missed a lot of what my friends and my peers had gotten. So, The Vixen Manual is a complete guide to everything that girls talk about," added Karrine Steffans.
From that point, host Marianne McClary did not hold back her opinions on Karrine Steffans' description of "The Vixen Manual."
"I would say it goes a little bit further than just conversations, wouldn't you say?," asked Marianne McClary. "First of all the book comes with a band so you can't like flip it open in the bookstore, and there's a good reason for that because there are explicit drawings in here of sexual positions of you know things along those lines, so when you talk about lessons and things that you were taught as a child, where are you going with this book, seriously?," ended Marianne McClary.
"This book is for married people! Did you read it? Because you sound like you didn't!," responds a seemingly agitated Karrine Steffans.
Then, defending why they possibly hadn't read the book, McClary claims, "We just got it yesterday," while Toma admits he mostly just looked at the pictures.
At this point, Karrine Steffans and Marianne McClary were trading words when host Nick Toma decided, "I'm making an executive call. Cut the interview. There you go. Bye-bye, see yah. Book's available in bookstores now." Following that, host Toma asked McClary for the book and stated that Steffans was a "rumpshaker in a bunch of videos," ending with "nuff said." The host then proceeded to grab the book and looks as though he placed the book underneath him and sat on it.
Karrine Steffans "The Vixen Manual" book was released on July 13, 2009 and is currently ranked #6 on Amazon in the Love & Romance category, a drop from #3 on last week, as reported on HipHopRX.com.