Whitney Houston Shares Her Thoughts On Michael Jackson's Death; Comeback Album Titled 'I Look To You'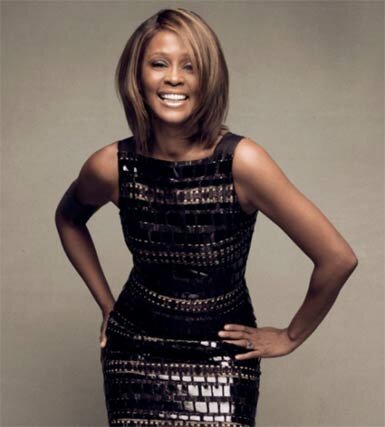 Whitney Houston who has announced the new name of her long awaited and now highly anticipated album which will be releasing on Arista Records on September 1, 2009, recently shared her thoughts on Michael Jackson's passing.
"It is so hard to express in words what Michael Jackson meant to me," states Whitney Houston. "He was my friend. He was one of the reasons I got into the music business," she added.

Whitney Houston went on to add, "He inspired me. He taught me. He laughed with me. He paved the way for African American artists to be played on MTV which was huge. My heart is full of grief for his family and his children and I pray that they take solace in the incredible legacy of his music and art."
Whitney Houston's new album, which was originally expected to be named Undefeated, as reported back in May on HipHopRX.com, has now been titled I Look To You and is Whitney's comeback album since the R&B singer and icon hasn't released a new album in seven years.
Whitney Houston's long-awaited comeback album "I Look To You" is Houston's seventh studio album following behind Whitney Houston's 1985 album "Whitney Houston", 1987 album "Whitney," 1990 album "I'm Your Baby Tonight," 1998 album "My Love Is Your Love," 2002 album "Just Whitney," and 2003 album "One Wish: The Holiday Album."
As reported on HipHopRX.com, promotional photos of the singer's supposed album photo shoot leaked on the Internet back in May 2009 and the first expected single off the album is "I Didn't Know My Own Strength." The song is penned by legendary songwriter Diane Warren (Toni Braxton – "Unbreak My Heart," Brandy – "Have You Ever?," Aerosmith – "I Don't Want to Miss a Thing," Celine Dion – "Because You Loved Me") and it is expected to be released soon.
Whitney Houston, full name Whitney Elizabeth Houston, 45, is also highly known for her movie role starring in the film Bodyguard, alongside actor Kevin Costner, which the Grammy Award winning (Album of the Year) Whitney Houston soundtrack to Bodyguard went on to become the best-selling soundtrack album of all-time with over 42 million copies sold, according to RIAA.