Taylor Swift And T-Pain 'Hook Up'?!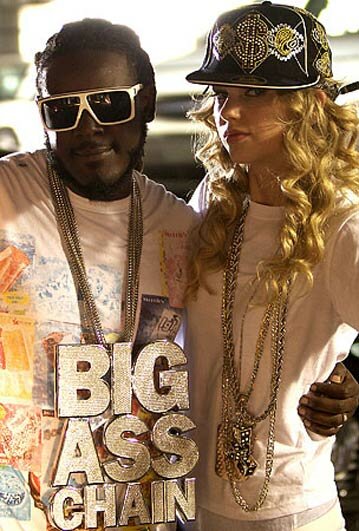 Country music singer and songwriter Taylor Swift and Hip-Hop, R&B music artist, songwriter and producer T-Pain 'hooked up' at the 2009 CMT Music Awards rehearsal at the Sommet Center on Tuesday (June 9) in Nashville, Tenn.

As seen in the two's photos together taken from the rehearsal, T-Pain can be seen wearing his new Big Ass Chain, which as reported on HipHopRx.com weighs 10lbs, has 197 karats and costs an estimated $410,000.
Taylor Swift and T-Pain rehearsed for the 2009 CMT Music Awards and may possibly have a bit of a surprise for fans as teased by Swift on her Twitter.
"If I said I was in the studio with T-Pain, would you believe me?," the 19 year old Taylor Swift tweeted.
The 2009 CMT Music Awards is set to air this coming Tuesday, June 16 at 8PM ET/PT on Country Music Television (CMT).