Kanye West and girlfriend Amber Rose Split Up?! Confirms Break Up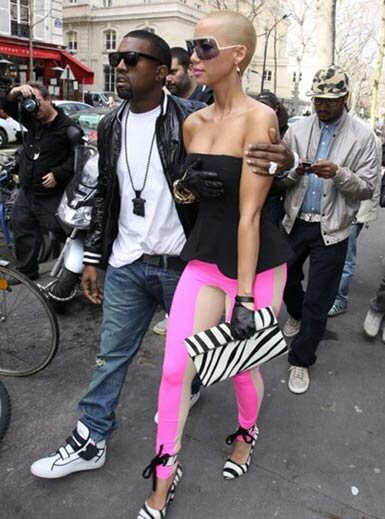 Kanye West may once again be an eligible bachelor, as the breakup rumors about him and girlfriend Amber Rose, now possibly an eligible bachelorette, have reportedly been confirmed by a spokesperson for Kanye West.

"They are no longer a couple," the spokesman for Kanye West told the New York Post, according to the website's Page Six publication.
Rap artist Kanye West, who just celebrated his 33rd birthday on June 8, was placed with Amber Rose, back in February 2009 after the couple had been spotted out on multiple dates together, as reported on HipHopRX.com.
Following break-up rumors, video model Amber Rose, an admitted bi-sexual known first for dancing and appearing in music videos such as Ludacris' "What Them Girls Like," Young Jeezy's "Vacation," and for her very sexy, half-naked photo shoot for Smooth Magazine, has reportedly been spotted out and about with her reported new lesbian/bi-sexual girlfriend and friends and was also reported on HipHopRX.com as dating rap artist Cassidy, a rumor she later denied.
Meanwhile, since the rumors of the break-up, Kanye West, on the other hand has been rumored to have been dating R&B music singer Rihanna, who was also in the news for reportedly caught kissing and dating Canadian hip hop music artist Drake, which he later spoke on and did not admit to the two having a relationship in a video interview but he didn't exactly deny the rumor either.
While the couple, Kanye West and Amber Rose, were confirmed as a couple, the two had been in the news numerous of times, but most notably, for Rose posing nude exposing her lovely ass(ets) in a fully clothed Kanye West's lap for a Louis Vuitton advertisement and when the couple was photographed in a picture with famed pop singer Madonna who was, in the photo, seen feeling on Amber Rose's butt.
Before the statement by West's reported spokesperson, Amber Rose, teasing the rumors and public, posted the following back on June 5th via her Twitter:
Me and my ride or die bitch Dez!!!! U know who wears the pants. LOL J/K