VH1′s Reality TV Star 'So Hood' Assaulted, Punched At Twista Show?!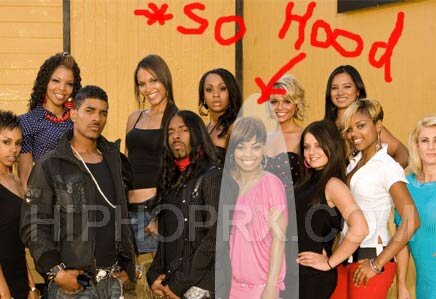 Reality television show star and former contestant of VH1′s 'Real Chance of Love,' So Hood, born Judith Scullark, who's known for her feisty attitude, was caught on video tape in an alleged assault after video shows a man grabbing 'So Hood' to prevent further altercation at hip hop music artist Twista's show performance.

"He gave that bitch a left hook," an onlooker could be heard in the background shouting as So Hood was carried away by someone who may have been a club bouncer or security guard. "I know, I know man," someone replies.
"Mayne that bitch had to be on something G, cause she act like motherf-cking she didn't even feel that sh-t," another onlooker states on camera.
"She got a left hook to the jaw…," again, another spectator states on camera.
So Hood, who was eliminated on the third episode of Season 1 of VH1′s "Real Chance of Love" featuring brothers Ahmad 'Real' Givens and Kamal 'Chance' Givens, was notably the feisty contestant on the show known for her argument with contestant Bubbles.
So Hood was eventually eliminated for her overzealous attitude when host Chance claimed that she was too much for him.
Check out the video of So Hood of VH1′s "Real Chance of Love" caught on camera in an alleged assault followed by a performance by hip hop music artist Twista.