Spectacular Of Pretty Ricky Returns; Angel Lola Luv, Pleasure P Talk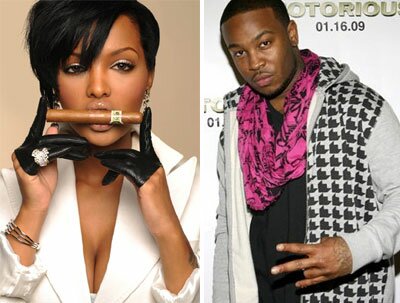 Pleasure P, the R&B singer and solo artist from off of group Pretty Ricky, and hip hop music artist and model Angel Lola Luv Monroe softly respond to answers about Spectacular of Pretty Ricky, who recently released a controversial video of himself grinding and dancing as a challenge to other artists.

As previously reported, Spectacular challenged artists such as Bow Wow, Chris Brown, Omarion, Trey Songz, Day26, amongst others to beat his 'grind' which became the talk of the Internet amongst blogs and websites who proclaimed the viral video 'somewhat gay' due to his dance moves and orange/red underwear.
While in the studio, on-air radio personality Angela Yee, of Lip Service, interviews Pleasure P and Angel Lola Luv about the controversial Spectacular 'grindin' video.
Though Pleasure P remained mostly quiet except for a few laughs about the video of his once group member Pretty Ricky as well as Angel Lola Luv remained mostly quiet, Lola did reveal she likes a more manly man, one that probably doesn't pedicure his nails or wax his body.
Pleasure P, on the other hand though, revealed he does get a pedicure and thinks a woman wouldn't want a man's hands going places on her body without a pedicure.
In related news, Spectacular from the R&B music group Pretty Ricky has returned with a part II of his now infamous viral video as well as a cartoon parody has been released imitating Spectacular with a animation spanking himself with 'beef patties' in reference to Spectacular's remarks in his video, part I, that his video 'ain't no beef.'
"This ain't no beef man, unless you're talking about beef jerky, a hot dog or some beef patties," the cartoon Spectacular says before spanking himself with the beef patties.
Meanwhile, Spectacular has also gotten a response to his challenge from sexy, celebrity internet star and music artist, Tila Tequila, the entertainment television host of MTV's reality television show "A Shot at Love with Tila Tequila."
Sexy Spec Pt. 2 | Pretty Ricky "Grinding" Tipsy in Dis Club Video!


Pleasure P and Angel Lola Luv Monroe talk Spectacular