Rihanna Exposes Herself For Chris Brown? Naked Pictures Hit Internet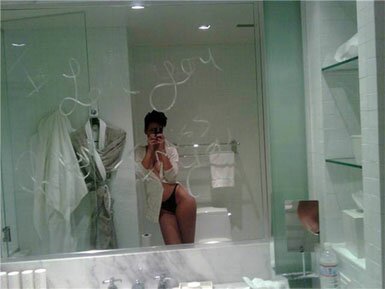 This must be celebrity photos naked week in entertainment! First Cassie with her naked pictures leaked on the internet, now Rihanna has some nude photos leaked on the internet.

Was Rihanna's photos leaked due to Cassie's nude photos leaking or was this someone's vendetta against the pop star.
Either way, the nude photographs surfaced on the internet Friday (May 8th) and show Rihanna in one photo in entirety in front of a mirror with what looks to be nothing but a polo shirt on and black panties with a camera in her hand posing possibly for Chris Brown. Brown himself is also involved in the leak as the singer and infamous boyfriend of Rihanna is also seen in a picture leaked along with Rihanna's nude photos, with what may possibly be Rihanna's panties over his head.
That's right, an alleged Chris Brown is shown in a picture with laced panties worn over his head?!!
Oh, yeah, and in the photo of Rihanna in front of the mirror, the words "I Love You" and "I Miss You" can be seen written on the mirror.
While that photo showing Rihanna's face in the picture is provocative and semi-nude, they do not compare to the almost pornographic images of an alleged Rihanna in the other pictures showing what may be the pop diva bending over naked from behind and grabbing herself from behind in another picture.
Heard enough? Check out the leaked pictures of Rihanna and decide for yourself what's going on: