Keyshia Cole Almost Uses Gun On Stalker; Reveals Her Breasts Are Too Big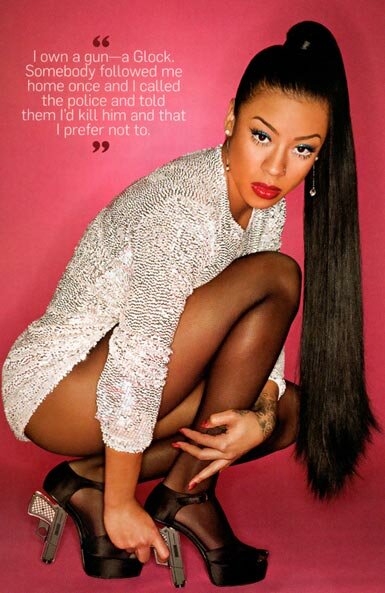 Keyshia Cole, who shares the June 2009 cover of KING Magazine with new internet model sensation and Joe Budden's girlfriend Tahiry, revealed in her King Magazine cover feature that she owns a gun — a glock — and she almost had to use it once when she was followed home by a possible stalker.

"I own a gun – a Glock. Somebody followed me home once and I called the police and told them I'd kill him and that I prefer not to," stated Keyshia Cole in her King Magazine interview.
The singer also speaks about getting a breast reduction.
"I'd make my breasts smaller… They're too big. I can't wear any tops that the other girls wear," revealed Keyshia Cole as seen on one her King Magazine photos in a quote next to her picture of her posed with a classical style hairdo with a modern twist, wearing various jewelry with her arms folded as almost to cover her breast or cleavage.
The special double issue of Keyshia Cole and Tahiry will be the last release from King Magazine as it was announced on last month that the urban men's mag was closing for business.