Lady GaGa Shows Off Her Ass(ets) on Stage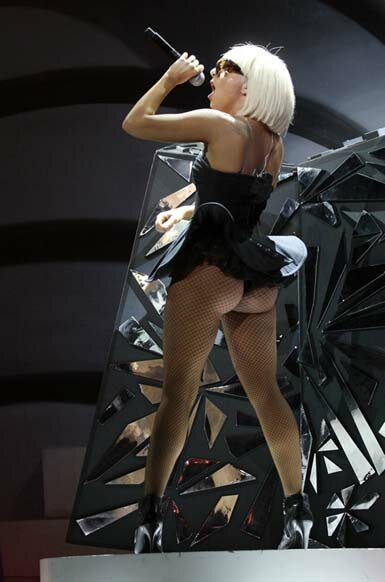 We all know that Serena Williams, yeah, baby got back, as we recently showed you in her photos in a bikini on the beach in Miami, but betcha many of you didn't know that singer Lady Gaga got back too! Well, a little. The singer who's definitely been photo'd before on stage showing booty, was recently caught showing a little more than average and it seems she's been doing her 'squats,' you know, the exercise that makes your butt bigger.

Well, squats may not be true for all, but Lady GaGa's most recent photos are definitely a sign of something going on at the backdoor.
The singer, who's been featured on hip hop tracks such as the recent track by hip hop artist Wale entitled "Chillin" which features Lady Gaga on the hook, was recently exposed by a wardrobe malfunction on a recent promotional tour, but didn't seem to let that stop her from showing off her ass(ets).
Check out hot new pictures of Lady GaGa and her booty on stage!
More new photos of Lady GaGa showing off her booty on stage!