Paul Wall Releases New Single, 'Bizzy Body,' Off 4th Studio Album 'Fast Life'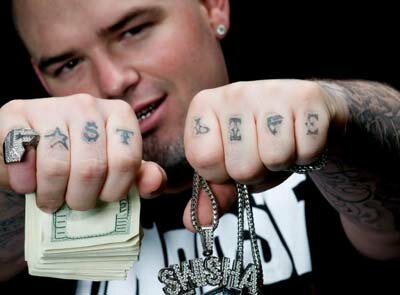 Paul Wall aka the "The People's Champ" is returning to the mainstream hip hop scene with a new song and a new upcoming album. The Houston, Texas rapper's album is titled "Fast Life" and the first single off the album is entitled "Bizzy Body" and features Trill Entertainment's Webbie and producer Mouse.

Paul Wall's music video for the song Bizzy Body (She's A Bizzy Body) featuring Webbie and Mouse off the upcoming album Fast Life was released over this weekend. The 'Bizzy Body' official music video premiered March 27 on MySpace Music.
Paul Wall's Fast Life album, though, as previously mentioned by Paul Wall, was first expected to release March 24, is now slated for a May 12, 2009 release on Swishahouse/Asylum and will feature Webbie, Too Short, Yung Joc, Gorilla Zoe, and Akon amongst others. Producers for the album include Trill Entertainment's Mouse, Travis Barker (drummer of rock band Blink-182), Beanz N Kornbread and CHOPS.
Paul is most known for his major album debut "The Peoples Champ" on Atlantic Records/Swishahouse/Asylum. The first single "Sittin' Sidewayz" was a smash hit and the video for the single featured cameos from artists such as Bun B, Three 6 Mafia, Jim Jones and more.
The album "The Peoples Champ" peaked at #1 on Billboard's Top R&B/Hip-Hop Albums chart and Billboard 200 in it's release year of 2005.