Amber Rose, Kanye West's Girlfriend, Talks Sex, Bisexuality and Shares Intimate Details Of Her Naked Body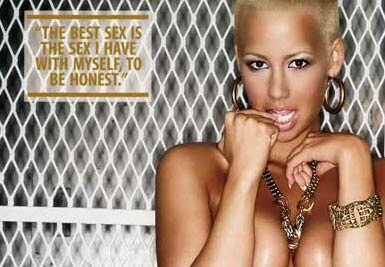 Amber Rose, Kanye West's new girlfriend, is heard on audio opening up about her sex life, past relationships, her bi-sexuality, her tattoo of another man other than Kanye West on her body, and more! WARNING! Definitely NSFW (Not Safe For Work)!

In an interview with Q Da Kid on Sirius radio Shade 45′s Lip Service, Amber Rose revealed that she is indeed bi-sexual or, should we say in her own words, enjoys being with "women!"
Unfortunately though, during the revealing of the intimate details into her bi-sexuality, Amber Rose states she's not into threesomes with a guy and a girl at the same time, she only dates one at a time.
Before that, the conversation was regarding a tattoo Amber Rose has on her arm of a past boyfriend, not Kanye West.
"Who's Earnest?" Amber Rose was asked regarding her tattoo.
"She has a tattoo on her arm that say Earnest…"
"He was my first boyfriend when I was like 15," stated Amber Rose.
"When did you guys break-up?" Amber Rose was asked.
"A longtime ago," replied Amber Rose.
"You never got it covered up?" they asked Amber Rose.
"No, because I learned alot from him so every time I look at that tattoo I know not to make the same mistakes," replied Amber Rose.
Rose states she got the tattoo from a guy from her neighborhood who 'hooked her up' as a minor.
Though Amber says she runs into problems with guys because of the tattoo, we don't think that's such a big problem for her.
Amber goes on to talk about her bisexuality with dating guys and girls and talks about her well shaved body, yes, her head isn't the only thing that's shaved.
Later the conversation goes into the sounds made during sex, faking orgasms, and more.
Check out the very intimate audio of Amber Rose talking about sex.
[display_podcast]
More pictures of model Amber Rose: in Smooth magazine | with Kanye West at Stella McCartney 2009 Fashion Show in Paris and Givenchy 2009 fashion show during Paris Fashion Week | and more Amber Rose pictures.