Bristol, Sarah Palin's Daughter 'Breaks-Up' With Her 'Baby Daddy'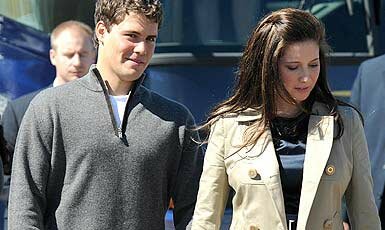 Bristol Palin, Sarah Palin's daughter who recently gave birth in December to a baby boy with her fiance Levi Johnston, has reportedly broken off her relationship with the father of her two month old son whose name is Tripp.

The split between the two, Bristol Palin, 18, and Levi Johnston, 19, reportedly happened two weeks ago as reported by PEOPLE and was a mutual decision according to Associated Press.
Palin released a statement saying that she was 'devastated' over the breakup.
Supposedly' Bristol Palin was expected to wed Levi Johnston after they finished school stating to Fox News, "Eventually, we'd like to get married. We're focusing on, like, getting through school and just getting an education and stuff, getting a career going."
As of yet, there hasn't been any comments by Bristol Palin's mother, Alaskan governor Sarah Palin, former Vice-Presidential candidate who ran with Presidential-candidate John McCain against President Barack Obama and Vice-President Joe Biden.