Lil Wayne Speaks On 'Crips and Bloods: Made In America'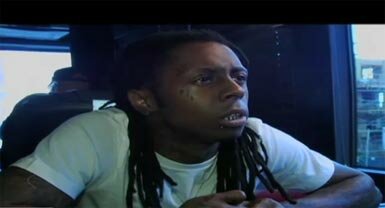 Rapper Lil Wayne sits down in an exclusive interview and talks about 'Crips and Bloods: Made In America,' the documentary movie which is produced by Baron davis of the NBA's Los Angeles Clippers, Dan Halstead, Shaun Murphy, Gus Roxburgh, and Cash Warren; executive produced by Quincy Jones III and Steve Luczo and narrated by actor Forest Whitaker.

Lil Wayne touches on how serious the movie is and important it is as well.
"Just to show how serious and important it is, it's being done by Baron Davis… Baron is an NBA player. You know, first thing we want to do when we from quote un-quote 'the hood' is get out — the last thing we want to do is go back. When you see somebody go back and try to help and try to make a difference, anybody could give away turkeys for thanksgiving… something like that, but when you actually go and put your money toward a movie.. it's not only for kids, it's for the world so that makes it important in itself, because this guy came back to do this… Also, what makes it important and what gives you like a strong like serious feeling about it is that it's being narrated by Forest Whitaker, he's one of the most serious guys ever," stated Wayne.
Wayne also spoke on what he took from watching the movie.
"When you sit down and watch this, you actually see it's not 'gangs,' it's deeper. What I take from it, I think, the gangs ain't gon' stop. They're not gon' stop period, but I think that they can become something different, because everything can evolve. I've evolved, we all evolved as humans as people period. The world evolved. I think that gangs can evolve into families, coalitions, committees, you know something like way more helpful to the world, way more helpful to the communities..," stated Wayne.
"If you watch this and if you don't watch this, just know that it is serious and it is important. And the most serious and important part about it is yourself," added Wayne.
Watch the video of Lil Wayne on Bloods and Crips detailed as the following:
An exclusive sit down with Lil Wayne talking on gangs, violence, America, and on Baron Davis's acclaimed documentary movie "Crips & Bloods: Made In America," the inside look at gang's, violence & what's next.
Crips and Bloods: Made In America is available at CripsAndBloodsMovie.com.
Directed by critically acclaimed documentary filmmaker Stacy Peralta and Executive Produced by NBA star Baron Davis and Silicon Valley entrepreneur Stephen Luczo, CRIPS AND BLOODS: MADE IN AMERICA tells the story of the Crips and Bloods, South Los Angeles' two most infamous African-American gangs.

Combining unprecedented access into the worlds of active gangs, CRIPS AND BLOODS: MADE IN AMERICA offers a compelling, character-driven documentary narrative which chronicles the decades-long cycle of destruction and despair that defines modern gang culture.