Video Surfaces Of Rapper Yung Berg Arrest As Manager Flees Police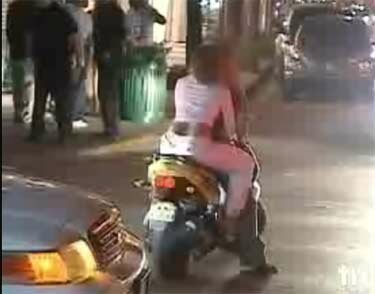 Video surfaces on the internet of rapper Yung Berg being arrested in Miami after attempting to ride a scooter with a female passenger on the back which ended up hitting the pavement due to him apparently being intoxicated. The rapper attempted to ride as TruTV and police watched, but after his failed attempt at joy riding and bike hitting the ground, he was then questioned and handcuffed.

According to authorities at that time the rapper was extremely intoxicated during the intervention and he was questioned about drugs and weapons. During the questioning, Yung Berg began telling Miami police that he was an artist.
"Being an artist has nothing to do with anything," one police officer told the rapper.
"I'm a recording artist," Yung Berg continues to say.
"I already heard that you're an artist already. It has nothing to do with anything. You drive like anybody else. You understand," the officer says.
"What is the problem? I lost control," Yung Berg insists on adding.
The rapper was then asked several questions which he kept answering no to including being in possession of narcotics which they found marijuana after searching his pockets.
Yung Berg's manager Justin showed up moments later asking to retrieve the rapper's jewelry before they took him to the station stating that it was worth more than $50K, but authorities denied giving him Yung Berg's possessions. After the police wouldn't give the manager Yung Berg's jewelry, the manager got upset and assaulted one of the officers and fled on foot leaving one police running after him. Police questioned Yung Berg about his manager and repeatedly asked him what was his name and where was he going, however Yung Berg stated to authorities that he had no idea and the the two were in separate hotels and his name was Justin.
Since the video has surfaced, Jeremy Rosen, manager for Yung Berg, has stated to XXL that the video "stemmed from an incident several years ago."