Soulja Boy Robbed, Goons 'Kick In' Door and Hold Rapper Hostage at Gun Point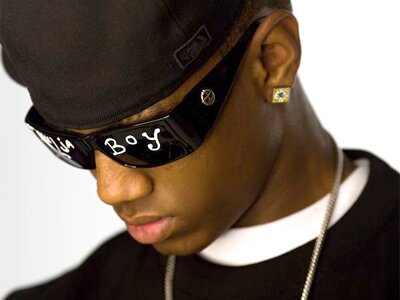 There are reports circulating that rapper Soulja Boy was robbed at his home in Atlanta and held at gunpoint by goons who kicked down the rapper's door and robbed him and his entourage, including Arab and JBar, at gunpoint with Ak-47′s.
Also, reportedly, the rapper's friend JBar was nearly taken hostage.

The reports revolve around a reported text message, which can be seen in the video below which surfaced on a YouTube channel by a rapper referred to as New Orleans Drama earlier today. The text message is supposedly from Soulja Boy talking about the robbery incident.
The text messages and dated times read as follows:
Dec 30, 2008 1:30 AM
souljaboytellem: Leavin my club… zooted! Yeaa it wuz packed S.O.D.

Dec 30, 2008 6:37 AM
souljaboytellem: Thanking god for my life 6 niggaz kicked in my door and tried to kill me

Dec 30, 2008 3:08 PM
souljaboytellem: Glad we alive they had aks and pitols and tried 2 kidnap my boy Jbar.
These reports come at a time when rapper Soulja Boy just a couple of days ago, had a videotape which surfaced claiming rapper Nas killed Hip Hop. This recent incident now will likely leave fans and bloggers talking about whether this was a response to rapper Soulja Boy's comments or not, if the circulating news ends up true.
There has been no official statement releases as of yet from Soulja Boy or his blogs or MySpace. So, it's not clear yet whether or not this is true or, if true, whether or not anyone was hurt or what exactly was stolen from the young rapper Soulja Boy's home.
SOULjA BOY ALMOST GETS KiLLED