Beyonce and Janet's War of Words: Knowles vs Jacksons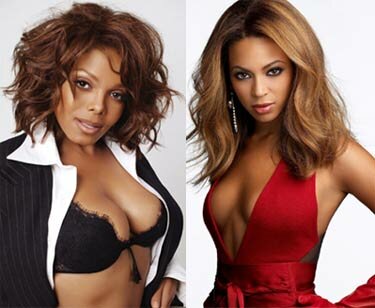 This may not be a Beyonce wardrobe malfunction, but it may possibly turn out to be a Beyonce interview malfunction. Reportedly Janet Jackson is furious at Beyonce Knowles-Carter after the singer made remarks in an interview that Janet Jackson took as rude about The Jackson's and belittling her parents.

In an interview, Beyonce is stated to have bragged about going to a private school, her father driving a Jaguar and the Knowles being an African-American family that works together.
"I grew up upper class. Private school. My dad had a Jaguar. We're African-American and we work together as a family, so people assume we're like The Jackson's. But I didn't have parents using me to get out of a bad situation," Beyonce reportedly told a reporter according to National Enquirer.
Allegedly an insider told the magazine that Janet Jackson blew up over the comments.
Here's what the insider had to say:
"Yes, Janet and the Jackson family came from Gary, Indiana, and there was a time they barely squeaked by. But Janet has many loving memories and is incensed that Beyonce would make a crack like that. Janet wanted to know why Beyonce had to mention her family. They're not friends and barely know each other. She feels Beyonce went out of her way to tell the world she's from the upper class and the Jacksons were like a bunch of dirty gutter rats. Janet is proud of her family and how they came from nothing and became superstars. Not only is Janet telling everyone who will listen that Beyonce has a lot of growing up to do and that she needs to stop trying to impress everyone, she's planning to confront Beyonce herself and read her the riot act."
In other news, reports are circulating that Beyonce may lose her chance at an Oscar nomination for the song "Once in a Lifetime" for the movie Cadillac Records. Rumors are stating that Beyonce didn't write on the song and the lead writer for the song, Scott McFaron, according to the LA Times, had the song on YouTube before the movie was even made and the only difference was that the song had been re-arranged. Allegedly the song already had three writers and can only have three to be nominated which included Amanda Ghost, and Ian Dench. Since news about the song has been circulating, Scott McFaron has taken down his YouTube videos and made changes to his Myspace.