Video: Tyra Banks Tells Brandy She Watched Ray J's Sex Tape on 'The Tyra Banks Show'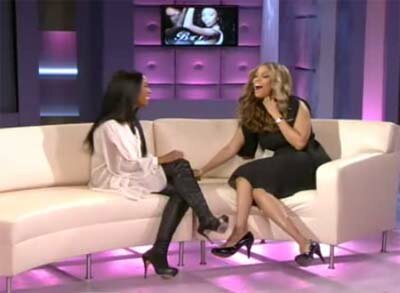 Brandy one of the top-selling female recording artists in pop music history talks with Tyra Banks about her brother Ray J's sex tape with Kim Kardashian which is expected to air on Monday, December 8th on "The Tyra Banks Show." Tyra Banks says to Brandy she watched 20 seconds of the tape for "research."

The show is expected to air one day after the release of her album "Human" which releases on December 9th, 2008. The album will be Brandy's debut with Epic Records label, after splitting with Atlantic Records in 2005. The lead single from off the album, entitled "Right Here (Departed)", premiered on August 13, 2008 on Brandy Norwood's official website. The song managed to take the number 1 spot on the Billboard Hot Dance Club Play chart, as well as number 22 on the Hot R&B/Hip-Hop Songs chart. "Right Here (Departed)" made it to number 52 on the Billboard Hot 100.
Brandy's second single "Long Distance," was released to radio stations in October '08.
Release Schedule For Brandy Norwood's Album "Human"
France December 5, 2008
Australia December 6, 2008
United Kingdom December 8, 2008
United States December 9, 2008