Kanye West Avoids Battle of Album Sales With 50 Cent; Changes Release Date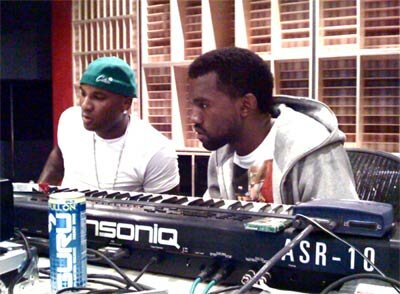 After Kanye's latest album "808s & Heartbreak" was announced to release in stores in December during the same month as 50 Cent's latest project "Before I Self Destruct," the rapper has now changed it's release date to possibly avoid another album battle over first week album sales.
The change of the release date of Kanye West's album was revealed on September 24th on Kanye West's official blog on his web site and was pushed up to November.

"I changed my album to November something cause I finished the album and I felt like it..I want yall to hear it as soon as possible," Kanye posted under a picture of himself and Young Jeezy sitting at an Ensoniq ASR-10 keyboard.
The first single from the album will be "Love Lockdown" which was posted on his blog on September 16 and is currently being spun on some radio stations.
On last year, Kanye West numbers showed him as selling over 950,000 copies, leaving 50 Cent at a little over 690,000 for first week of sales on September, 11th of 2007.
In other news, on September 11, 2008, Kanye West and his road manager Don Crowley were arrested at Los Angeles International Airport (LAX) and booked on charges of felony vandalism after an altercation with the paparazzi over a camera. Kanye West and Don Crowley were released on a $20K bond. The rapper/producer is due back in court on October 2, 2008.