Rappers Lil Wayne and Yung Berg Miss Court Dates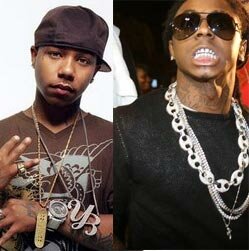 These two can't seem to get out of trouble or is trouble finding them. On today, Lil Wayne and Yung Berg were expected to appear in court in New York in which they failed to appear. Wanye faces gun possession charges and for drugs found on his tour bus in 2007 and Yung Berg faces gun charges for an incident that happened over this past weekend.
Wayne faces up to 3 1/2 years in prison if convicted and Yung Berg faces charges for marijuana possession, menacing and being in possession of a firearm.
No further information on whether attorney's for the two rappers stood in or if warrants have been issued for both.