Flavor Flav going solo after Public Enemy tour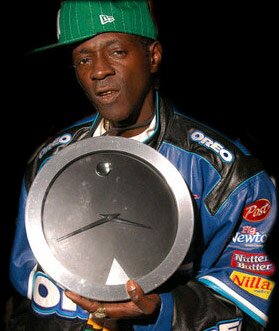 After finishing up an overseas with Public Enemy, member Flavor Flav will bring his self-titled solo debut which has been in the works for over a year. The album is expected to hit shelves on Halloween, October 31 under his own label, Drayton Records, and Redeye Distribution.
"This is my first and only album ever because I want it to be a collector's item," states Flav. "I always wanted to do a solo album but coming up through the years there's been a lot of obstacles in my way that have stopped me from being able to do so."
The new album will feature a guest appearance by Smooth Bee of the duo Nice & Smooth on the track "Baby Baby Baby." "This is the way I want people to perceive me so I don`t have [any] collaborations," says Flav, who also experiments with R&B on the album. "It has music for all ages, from 10 up `til senior citizens. I worked hard on it and everything is Flav."
"Flavor Man" is stated to be his favorite track. "It's because of the heart and soul that I put into it. I'm playing live instruments on there and doing all my lead vocals and background vocals," he says. "I always pictured it being a big record."
As far as "Flavor of Love" goes he plans on putting the show to rest and explore other opportunties.
"If there's a connection this season then there might not be a reason for "Flavor of Love 3," he says. "I ain't scared to do it again, but I ain't really trying to. I want to do a talk show or something. I've done enough dating on TV. I'm ready to spread my wings and go down other avenues. I don't want to just stay stuck on one page cause you don't make it to the end of the book that way."
Flav is planning on doing a solo tour, a book and another Public Enemy album which will possibly be done by him. Flav states, "Chuck D wants to release another Public Enemy album, but I always wanted the next Public Enemy album to be done by me."