Machine Gun Kelly Explains About His Collaborations on "Lace Up"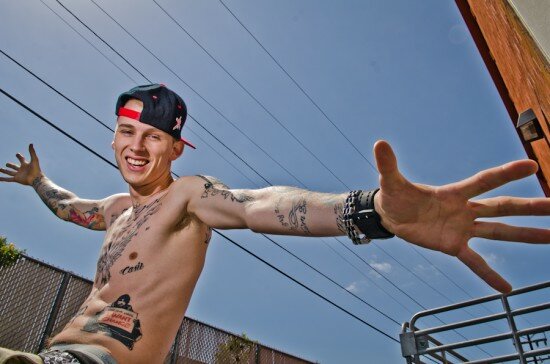 Machine Gun Kelly gives us the inside scoop of some artists that are featured on his album.
As the release date for his album "Lace Up" is getting closer by day, the Ohio native explains about the album's features.
In a recent interview with MTV's "RapFix Live" Machine Gun Kelly stated, "I actually got one of the greatest metal bands to be featured on it, Avenged Sevenfold."
"It's definitely an eargasm if you're into cross genre." The track which features Avenged Sevenfold lead vocalist M. Shadows and lead guitarist Synyster Gates, the title of the track is called "Save Me," and serves as the album's intro.
Bun B, Waka Flocka Flame, Lil Jon, Young Jeezy, Twista, Tech N9ne, Dubo, and DMX also feature on his album.
Machine Gun Kelly stated that Twista and Tech N9ne's collaboration song is title "Edge of Destruction."
"We weren't all in the studio, which was a bummer. I wish me, Tech and Twist could've been in there together," exclaimed MGK.
"Twista really fed off of Tech N9ne's verse though," he added. "That was a big moment."
"I really think I brought the best out of the artists, and they really blessed me by not being on no money thing, or no politics. It's all out of love for the movement and what they believed in," said Kelly. "And I really think the album will open up the critics' eyes a lot."
Photo Credit:killerhiphop.com