Manny Pacquiao And 50 Cent Are In Business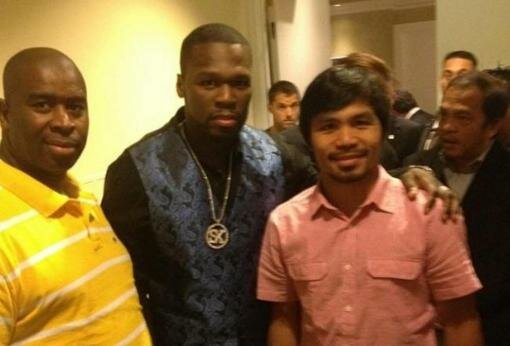 The hip hop and boxing world have been taken by surprise as Manny Pacquiao and 50 Cent team up for boxing promotions. And now Manny has decided to speak about their plans which has caused some tension between 50 and Floyd Mayweather.
In a recent interview with MTV, Pacquiao speaks on his relationship with 50 Cent and what they have planned for boxing fans.
Pacquiao made it clear that his and Fiddy's deals aren't finalized, but they are in the process of getting things done. Pacquiao mentions that he also hopes that this deal will help bring Mayweather and himself one step closer to their highly anticipated fight.
"I love music, and he likes boxing also," he said. "We're talking about that and we're discussing. We didn't finalize yet because I'm so busy right now and he's busy right now…there's a possibility to make that fight [between Pacquiao and Mayweather] happen. Maybe not this time, but some other time. Right now I'm focused on December 8."
Pacquiao's business advisor Michael Concz confirmed that the two had been working closely together on a possible marquee boxing match/mini-concert crossover.
"We've very close to it, I've been talking to 50 Cent now for over a month and a half, close to two months. It's becoming a reality, more than a possibility," he said. "I think we're going to end up doing something together before the year is out…I believe [50 and Mayweather] have a true friendship and all true friends have arguments periodically, but that's not my business. Floyd is always welcome, if we put this together…[50 and Floyd] approached us, they came to us and initially it was 50 Cent, Floyd and Manny. We don't have a problem with Floyd. Manny doesn't have any anger or resentment."
But before any Mayweather talk Pacquiao will once again have to prove himself to the world as he faces rival Juan Manuel Márquez this December 8.
Check out the interview below.
Photo Credit:hiphopnewsmedia.com