Usher And Shakira Next In Line For The Voice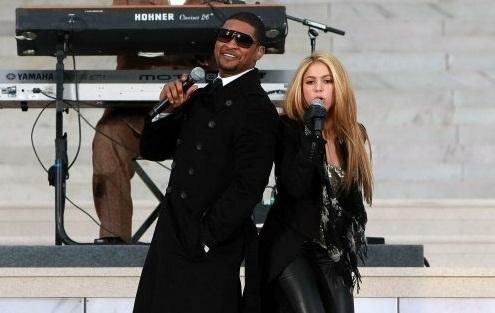 Usher and Shakira have officially been confirmed as the two stars who will replace Christina Aguilera and Cee Lo Green on season four of 'The Voice'.
With things heating up in the television rating wars it was important that 'The Voice' choose two artists that are credible and have talent to replace the two judges who are set to part ways with the show.
Both Usher and Shakira will take their judging seats in the fourth season of the singing show. Christina has decided to leave 'The Voice' to spend time touring and promoting her new album 'Lotus' and as you may have heard Cee Lo will now be working with NBC on a new show of his own.
However, if you are a huge fan of both Cee Lo and Christina, then don't lose any sleep about this ordeal as they will they will both return for season five.
Chairman of NBC Entertainment Robert Greenblatt said: "Doing two back-to-back cycles of this show requires a tremendous amount of time, and we are happy to accommodate the commitments made by Christina and Cee Lo.
"The participants on our show benefit from our coaches' expertise and their continued success in the music business allows for significant new contributions to the contestants when they return."
Original coaches Adam Levine and Blake Shelton will remain on the panel.
Sounds like a great move on 'The Voice's' part as they've actually taken the time to recruit real talent to be part of the coaching panel, unlike another show that is out there which recently acquired a rapper to judge singers. Makes no sense, but I guess that move was for ratings rather than function.
This should also prove to be a very big boost for both Shakira and Usher as they will now be introduced to a completely new fan base.
Photo Credit:yakkityyaks.com