Diggy Simmons Fires Back At J. Cole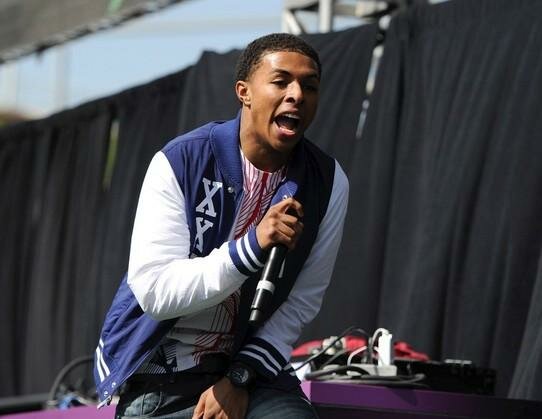 The hip hop beef between Diggy Simmons and J. Cole is just now starting to sizzle! We recently reported that J. Cole had sent out a diss to Diggy and now Diggy has gotten all fired up and brought it straight to Cole.
The entire ordeal first began over a reported romance between Cole and Diggy's sister, Vanessa Simmons. But after a concert both artists were said to have squashed the beef, however it was J. Cole who broke the truce as he went in on Simmons recently, but the youngster isn't one to shy away from this battle as he has now fired back with an entire diss track aimed straight at J. Cole.
J. Cole and Diggy Simmons have been throwing shots at one another over a reported romance between Cole and Vanessa Simmons. After they allegedly squashed the beef at a concert, the young rapper has fired back at Cole over recent remarks aimed in his direction.
Power 105's The Breakfast Club premired the track "Fall Down" early yesterday morning, and let me tell you Diggy went in hard at Coel, he even threw in a few low blows at the rapper.
On the track Diggy spits some cold bars to make sure he gets Cole's attention. "These fake as* ni**as, they aint who they pretend to be / These shake weight ni**as out here ruining the industry / Either you a copy or a clone / You ratchet or you trappin' or you tryna watch the throne," he raps.
But the good stuff comes as he brands Cole a "snaggletooth".
"I guess I rattled you, snaggletooth / You know better / Thought J stood for Jermaine, not Jet Setter / You seen me and shook my hand, coppin' pleas in person / Now you wack, less than a man, mention me in verses."
"Sneak disses and jabs, I don't really see the benefit / But I guess you lame enough, probably keep you relevant."
Then he hammers in the nail in the coffin. "How you mad at it at least I got a relationship with my father!"
This kid is no joke! Now it's just a waiting game to see how Cole will respond to this.
Listen to the song below.

Photo Credit:zimbio.com