50 Cent Understands Chief Keef's Mentality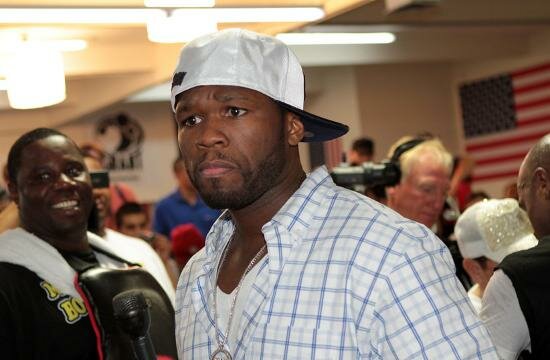 50 Cent was home grown in the streets so it's only natural for him to see the same struggles he went through in Chief Keef. 50 Admires what the young rapper has achieved thus far, understands why he reacted the way he did with Lupe Fiasco.
Chief Keef has been the topic in many discussion as he has called out Lupe Fiasco and on top of that he has also been  questioned for his tweeter remarks on  the recent death of Chicago rapper Joseph "Lil JoJo" Coleman. And even though everyone may be against him , 50 Cent has made it public that respects what Chief Keef has done thus far with his career and that he understands his mind frame.
50 Cent's commentary on Keef began with the rapper commending the "I Don't Like" star for reaching mainstream success at such a young age and being able to do it from scratch.
"I like the idea of Chief Keef," 50 Cent said. "The same way I like the idea of Soulja Boy cause I like the idea of someone having a hit at sixteen. He's actually my son's age. So without the success that I've had, my son could have potentially been Chief Keef…When I look at their situations and I go, 'Wow, that's what Hip-Hop culture [does] it allows people to come from completely nothing to make it.'"
50 Cent also addressed the beef between Keef and fellow rapper Lupe Fiasco.
"The things that Lupe said about Chief Keef I don't think he said that about him. I think he said it about the actual element, the environment," said 50.
"There's no way that you don't personalize it when a person is saying you, talking about you. So when he responded by saying he's gonna smack him or whatever it's just cause you keep attacking me. And I'm sitting here, you attacking me, and what am I supposed to do?"
50 also had a few words on on the recent death of Lil JoJo and how few diss songs fail to link Chief Keef or anyone in his crew to the death of the 18-year-old rapper.
"Chicago had 158 homicides this summer, 38 of them was teens," the rapper explained. "So when they gotta go through an investigation to make sure that that's actually someone affiliated with Chief Keef. You can't just put that on 'em because the boy made a diss song and he out there. If he's out there and he's active and you saw all those guns the boys had in that video. It shows that it's an actual part of their culture."
Well, it seems that 50 may have lost a few fans in this interview. Everyone knows that Keef is young and not too smart, seriously has anyone even listened to his lyrics?  So how are you going to take your name as a very successful rapper/businessman and co-sign this youngster who is headed no where fast?
Photo Credit:spokeo.com