Amber Rose And Wiz Khalifa Break BabyNews At The VMA's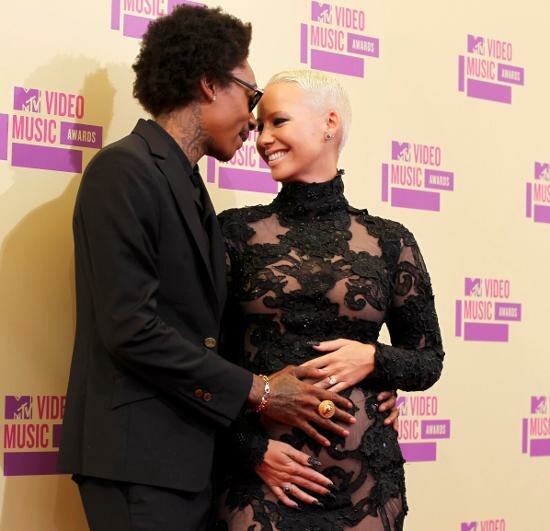 Amber Rose and Wiz Khalifa have been on a party mode relationship from the get go, however all that has been on a halt for the past few months as they are now expecting a baby. The news had already broken months ago, but it was not until yesterday that they actually told everyone on national television that they were expecting their first born.
Both seem to be very eager and are 'super excited' about having a baby. The couple became engaged earlier this year, and took the time to confirm that they were expecting while walking the red carpet at the MTV Video Music Awards. But In think many people would have guessed as Amber looks at least five months along in the pregnancy.
Amber and Wiz also revealed that they already knew the gender of their baby, but don't want to tell the world just yet.
"We do know the sex, but we're [keeping it private] for now," Amber said.  "We just found out two days ago, so we're super excited."
However, during the interview Wiz did keep on mentioning that "he" when referring to the baby. Wiz also says that he is not worried at all about whether or not he'll be able to juggle parental duties with his busy career.
"I'm superman!" he claimed. "I'm going to the best dad and the best performer and the best husband that I can be."
Funny thing about this is that Wiz and Amber have been denying the pregnancy for months.
Photo credit:marinij.com